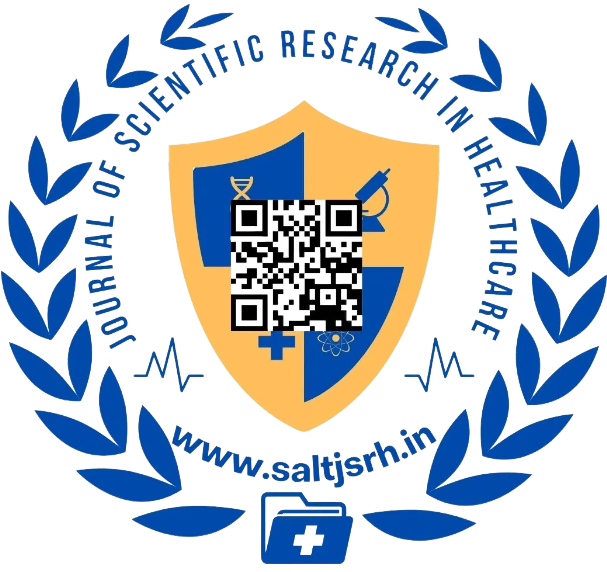 Volume 2, Issue 2, Page 16, Published on 10th November 2022
https://doi.org/10.56735/saltjsrh.ms22020216SS
Case Report
Subramanian SS, Priya R, Madhankumar
Sree Balaji College of Physiotherapy
Bharath Institute of Higher Education and Research, Chennai, India
Corresponding Author: Dr. S.S. Subramanian, Principal and Dean, Sree Balaji College of Physiotherapy, Bharath Institute of Higher Education and Research, Chennai, India.
ORCID ID:0000-0002-9944-6250
ABSTRACT
Introduction: Modern living associated with greater health hazards including cancers. Among which breast carcinoma ranks with higher prevalence in adult women. Physical laboratory investigations and screening. Early identification to a larger extent can influence better outcome and longevity especially for breast cancer subjects.
Objectives: As physical therapist frequently involved in treating neck and low back ache as first contact healthcare expert, this research highlights importance of patients with chronic neck pain to be screened for lymph nodes, other related complaints like stiff neck, increasing atrophy, constant continuous pain, most of these could be related to malignancy while these subjects can be referred to physician or oncologist for to be detected and treated with due medical care for an enhanced post onco surgical living standard.
Materials and methods: 59-year-old diabetic subject with chronic continuous neck pain with nodules over posterior cervical spine was referred to undergo mammography by physiotherapist through physician. She was diagnosed later with hyper metabolic malignant lesion of left breast and underwent modified left radical mastectomy. Later, she was getting treated for her physical functioning in improving QOL were discussed with due evidence for the period 2020 to 2022.
Results: With lesser follow up post mastectomy and early identification by physiotherapists remain key component of this research. Findings of this research can form foundation of onco physiotherapy in early clinical screening and referral to medical expert.
Conclusions: If adhered can become novel means of physiotherapy evaluation as red flag and could be included in every patient physical evaluation in future.
Keywords: Carcinoma, mastectomy, mammography, onco-physiotherapy, breast cancer, fibromyalgia
INTRODUCTION
An increasing incidence of Breast Cancer, with an early age, are to be associated with higher human functional disturbances and huge economic burden. Early identification and due Oncological interventions were highly shown to overcome these hurdles. Common clinical conditions, physical findings, red flags, age, family history, gender, psychosocial details, systemic conditions, habits, stressful living conditions were highly formed to give a link to breast cancer. As Clinical experts, Physiotherapists, Physician, Gynecologist, Dentist should take lead in early clinical screening for Breast Cancer and promptly refer to Oncological experts.
As these professional qualities to a larger extent enhance human living quality, minimize sufferings and involved cost especially in developing countries like India, prior to that educating healthcare professionals on Breast Self Examination (BSE), Medical, Allied are key components to improve an awareness. This was supported by BSE conducted among Malaysian physiotherapy and nursing students (Odufa et al., 2021).
Further screening for red flag symptoms of cancer were conducted in a community based study in Puducherry (Sakthivel, 2018). While commonly used screening modalities like mammography (MMR), CBE, BSE (Ngan et al., 2020) concluded on the merits of Clinical Breast Examination to be great especially among Asian young woman who are at risk to benefit.
A retrospective cohort study from United Kingdom among patients diagnosed with Cancer within one year of non referral ranged from Anemia, rectal bleeding, multi morbidity, insisted on scope for improvement in the diagnostic process as supported by Wiering et al., 2022, further it was worthy that early cancer diagnosis leads to better patient experience as noted by Weller et al., 2012 however age, gender, socioeconomic status and ethnicity and the risk of non adherence might be the hindrance on stage of diagnosis, referral interval and survival as recorded by Hayes et al., 2021. Also Self examination and self breast examination can facilitate earlier detection of breast cancer and greater awareness as supported by Albeshan et al., 2020, while Clinical breast examination becoming more feasible in developing countries when mammography screening were not widely getting practiced (Euhus et al., 2015)
Nearly 45% of breast cancer diagnosed in 2020 were from Asia, a greater need for Research in early detection, Risk based Screening initiatives were greatly needed. (Lim et al., 2022). As early detection, were greatly associated with low treatment costs and a higher survival rate (Wong et al., 2021) while systematic mammography could reduce Cancer mortality in developed countries (Jatoi, 2018) it could pose greater challenge for developing countries while religion, personal fear, low health literacy, fear of pain, personal beliefs, financial costs, lack of support, awareness could be major hindrances among women from undergoing screening (Alenezi et al., 2022).
As lesser researchers were available on focusing clinical evaluation and referral for suspicious Breast cancer as underlying cause this research presentation gets highly significant as an innovative mode.
AIMS AND OBJECTIVES
1. To analyse how red flags and physical evaluation provide link to breast cancer.
2. To scientifically find how reliable clinical findings related to breast cancer.
MATERIALS & METHODOLOGY
59 Year Old female post Hysterectomy, Vegetarian, Divorcee, Home maker, Graduate in Science, Mother of two adults, known diabetic for 20 years with high stressful life in family, complains of chronic neck pain
and thigh pain. She was regularly treated along with the diabetic medication by non pharmacological intervention using specific exercise with weekly twice frequency during the period from 2015 to 2020. The subject was complaining of increasing loss of weight, fatigue and small swelling in her breast its worthy that she had fibromyalgia and polyarthralgia. She was advised for SBE and the therapist insisted on getting physicians advice and then to come for physiotherapy. She was later found to have Stage III Left Breast Cancer and subsequently treated Radical Mastectomy with resuming physiotherapy for her post mastectomy continues till today.
DISCUSSION
STRESS
Stressful life events were found to contribute various diseases including cancer were recorded (Lillberg et al., 2001). With women at an increased risk of breast cancer were supported by Jacobs and Bovasso, 2000. Similar to these findings this research female a divorcee at an age of 25 years, being a mother of female child, multiple humiliating events at family and society to be considered by Clinician.
AGE
Age between the group of 50 to 69 years bi annual mammography screening in an asymptomatic woman are highly recommended by European breast cancer guidelines Ditsch et al., 2022. With women more than 50 years accounted for 78% new breast cancer and higher mortality rate (Yancey et al., 2001). This research, woman aged 59 years with higher rate of risk for breast cancer should be thought of by clinical therapist with supportive evidences.
DIABETES
This research subject being a diabetic type 2 on medication was at high risk to develop breast cancer by Ling et al., 2020 in 32 million people cohort study. Being a diabetic for more than 30 years makes this subject to be looked in for vulnerability for breast cancer by physical therapist.
FIBROMYALGIA
Fibromyalgia is a common clinical condition among women, for which this research subject was getting treated with core and resisted exercise was found to be related to high intensity pain, stressful events, depression (Fuller et al., 2012) with lesser serotonin (Cordero et al., 2010) and higher pro-inflammatory cytokines (Buskili et al., 2005), fatigue was linked with higher breast cancer intensity; a cue for breast cancer which were supported by Akkaya et al., 2011.
Thus while treating a fibromyalgia female for chronic arthralgia, physiotherapist should consider this as an autoimmune disorder with multiple fat nodules in the body. Any abnormal increase in swelling, pain should timely be referred for medical experts were core components of this research.
While one sixth of women with breast cancer present with larger symptom other than breast lump including back pain, weight loss, Fatigue, Axillary pain an early referral can be more beneficial as evidenced in this research towards patient betterment with early diagnosis and better outcome (Koo et al., 2017). However identifying these non-breast symptoms could be challenging with low predictive values for symptoms of breast cancer, new diagnostic services of nonspecific symptoms with accelerate, coordinate and evaluate a Danish initiative were similar to findings of this research (Fuller et al., 2016) its worthy of noting, red flags and referral in identifying patients with suspected cancer (Lewis et al., 2018).
Along with the model of early detection of breast cancer in Peru where midwives, Doctors, health promoters patient navigators were involved in a pilot study awaiting their results (Bain, 2022). These reports further strengthen the need for multidisciplinary healthcare team towards early detection diagnosis and treatment for Breast cancer similar to findings this research where clinical therapist referring to experts related to symptoms of Breast cancer. However this needs longer duration study with greater sample to validate findings of this research.
CONCLUSION
The grey point of this research were timely referral, self confidence of therapist, faith of patient on physiotherapist surely can elevate greater quality of physiotherapy profession and quality of affected subjects. Limitation of this research were single case experimental longitudinal study whereas part of the study was presented here, as subject receives treatment till today.
REFERENCES
Sakthivel M, Krishnamoorthy Y, Sarveswaran G, Jayalakshmy R, Priyan S, Bharathnag N. Screening for red flag symptoms of cancer: A community-based cross-sectional study from urban Puducherry, India. J Educ Health Promot. 2018 Dec 28; 7: 174. https://doi.org/10.4103/jehp.jehp_89_18. PMID: 30788377; PMCID: PMC6333027.
Ngan TT, Nguyen NT, Van Minh H, Donnelly M, O'Neill C. Effectiveness of clinical breast examination as a 'stand-alone'screening modality: an overview of systematic reviews. BMC cancer. 2020 Dec; 20(1):1-10. https://doi.org/10.1186/s12885-020-07521-w.
Wiering B, Lyratzopoulos G, Hamilton W, Campbell J, Abel G. Concordance with urgent referral guidelines in patients presenting with any of six 'alarm' features of possible cancer: a retrospective cohort study using linked primary care records. BMJ Quality & Safety. 2022 Aug 1; 31(8):579-89.http://dx.doi. org/10.1136/bmjqs-2021- 013425.
Weller D, Vedsted P, Rubin G, Walter FM, Emery J, Scott S, Campbell C, Andersen RS, Hamilton W, Olesen F, Rose P, Nafees S, van Rijswijk E, Hiom S, Muth C, Beyer M, Neal RD. The Aarhus statement: improving design and reporting of studies on early cancer diagnosis. Br J Cancer. 2012 Mar 27; 106(7):1262-7. https://doi.org/10.1038/bjc.2012.68. Epub 2012 Mar 13. PMID: 22415239; PMCID: PMC3314787.
Reeder-Hayes KE, Troester MA, Wheeler SB. Adherence to Endocrine Therapy and Racial Outcome Disparities in Breast Cancer. Oncologist. 2021 Nov; 26(11):910-915. https://doi.org/10.1002/onco.13964. Epub 2021 Sep 28. PMID: 34582070; PMCID: PMC8571754.
Albeshan SM, Hossain SZ, Mackey MG, Brennan PC. Can Breast Self-examination and Clinical Breast Examination Along With Increasing Breast Awareness Facilitate Earlier Detection of Breast Cancer in Populations With Advanced Stages at Diagnosis? Clin Breast Cancer. 2020 Jun; 20(3):194-200. https://doi.org/10.1016/j.clbc.2020.02.001. Epub 2020 Feb 11. PMID: 32147405.
Euhus D, Di Carlo PA, Khouri NF. Breast Cancer Screening. Surg Clin North Am. 2015 Oct; 95(5):991-1011. https://doi.org/10.1016/j.suc.2015.05.008. Epub 2015 Jul 29. PMID: 26315519.
Lim YX, Lim ZL, Ho PJ, Li J. Breast Cancer in Asia: Incidence, Mortality, Early Detection, Mammography Programs, and Risk-Based Screening Initiatives. Cancers (Basel). 2022 Aug 30; 14(17):4218. https://doi.org/10.3390/cancers14174218. PMID: 36077752; PMCID: PMC9454998.
Wong JZ, Chai JH, Yeoh YS, Mohamed Riza NK, Liu J, Teo YY, Wee HL, Hartman M. Cost effectiveness analysis of a polygenic risk tailored breast cancer screening programme in Singapore. BMC Health Services Research. 2021 Apr 23; 21(1):379. https://doi.org/10.1186/s12913-021-06396-2.
Jatoi I. Risk-Reducing Options for Women with a Hereditary Breast Cancer Predisposition. Eur J Breast Health. 2018 Oct 1; 14(4):189-193. https://doi.org/10.5152/ejbh.2018.4324. PMID: 30288491; PMCID: PMC6170022.
Alenezi AM, Thirunavukkarasu A, Wani FA, Alenezi H, Alanazi MF, Alruwaili AS, Alashjaee RH, Alashjaee FH, Alrasheed AK, Alshrari BD. Female Healthcare Workers' Knowledge, Attitude towards Breast Cancer, and Perceived Barriers towards Mammogram Screening: A Multicenter Study in North Saudi Arabia. Curr Oncol. 2022 Jun 15; 29(6):4300-4314. https://doi.org/10.3390/curroncol29060344. PMID: 35735453; PMCID: PMC9222040.
Lillberg K, Verkasalo PK, Kaprio J, Teppo L, Helenius H, Koskenvuo M. Stress of daily activities and risk of breast cancer: a prospective cohort study in Finland. Int J Cancer. 2001 Mar 15; 91(6):888-93. https://doi.org/10.1002/1097-0215(200002)9999:9999<::aid-ijc1138>3.0.co;2-d. PMID: 11275996.
Jacobs JR, Bovasso GB. Early and chronic stress and their relation to breast cancer. Psychol Med. 2000 May; 30(3):669-78. https://doi.org/10.1017/s0033291799002020. PMID: 10883721.
Ditsch N, Wöcke A, Untch M, Jackisch C, Albert US, Banys-Paluchowski M, Bauerfeind I, Blohmer JU, Budach W, Dall P, Fallenberg EM, Fasching PA, Fehm TN, Friedrich M, Gerber B, Gluz O, Harbeck N, Heil J, Huober J, Kreipe HH, Krug D, Kühn T, Kümmel S, Kolberg-Liedtke C, Loibl S, Lüftner D, Lux MP, Maass N, Mundhenke C, Nitz U, Park-Simon TW, Reimer T, Rhiem K, Rody A, Schmidt M, Schneeweiss A, Schütz F, Sinn HP, Solbach C, Solomayer EF, Stickeler E, Thomssen C, Witzel I, Müller V, Janni W, Thill M. AGO recommendations for the diagnosis and treatment of patients with early breast cancer: Update 2022. Breast Care (Basel). 2022 Aug; 17(4):403-420. https://doi.org/10.1159/000524879. Epub 2022 May 5. PMID: 36156915; PMCID: PMC9453658.
Yancik R, Wesley MN, Ries LA, Havlik RJ, Edwards BK, Yates JW. Effect of age and comorbidity in postmenopausal breast cancer patients aged 55 years and older. JAMA. 2001 Feb 21; 285(7):885-92. https://doi.org/10.1001/jama.285.7.885. PMID: 11180731.
Ling S, Brown K, Miksza JK, Howells LM, Morrison A, Issa E, Yates T, Khunti K, Davies MJ, Zaccardi F. Risk of cancer incidence and mortality associated with diabetes: A systematic review with trend analysis of 203 cohorts. Nutr Metab Cardiovasc Dis. 2021 Jan 4; 31(1):14-22. https://doi.org/10.1016/j.numecd.2020.09.023. Epub 2020 Sep 25. PMID: 33223399.
Fuller-Thomson E, Nimigon-Young J, Brennenstuhl S. Individuals with fibromyalgia and depression: findings from a nationally representative Canadian survey. Rheumatol Int. 2012 Apr; 32(4):853-62. https://doi.org/10.1007/s00296-010-1713-x. Epub 2011 Jan 8. PMID: 21221590.
Cordero MD, Alcocer-Gómez E, Cano-García FJ, de Miguel M, Sánchez-Alcázar JA, Moreno Fernández AM. Bajos valores de serotonina en suero se correlacionan con la gravedad de los síntomas de la fibromialgia [Low levels of serotonin in serum correlates with severity of fibromyalgia]. Med Clin (Barc). 2010 Nov 13; 135(14):644-6. Spanish. https://doi.org/10.1016/j.medcli.2010.05.009. Epub 2010 Jun 29. PMID: 20591450.
Bel'skaya LV, Loginova AI, Sarf EA. Pro-inflammatory and anti-inflammatory salivary cytokines in breast cancer: relationship with clinicopathological characteristics of the tumor. Current Issues in Molecular Biology. 2022; 44(10): 4676-4691. https://doi.org/10.3390/cimb44100319
Akkaya N, Atalay NS, Selcuk ST, Alkan H, Catalbas N, Sahin F. Frequency of fibromyalgia syndrome in breast cancer patients. Int J Clin Oncol. 2013 Apr; 18(2):285-92. https://doi.org/ 10.1007/s10147-012-0377-9. Epub 2012 Feb 10. PMID: 22322540.
Koo MM, von Wagner C, Abel GA, McPhail S, Rubin GP, Lyratzopoulos G. Typical and atypical presenting symptoms of breast cancer and their associations with diagnostic intervals: Evidence from a national audit of cancer diagnosis. Cancer Epidemiol. 2017 Jun; 48:140-146. https://doi.org/10.1016/j.canep.2017.04.010. Epub 2017 May 23. PMID: 28549339; PMCID: PMC5482318.
Fuller MS, Lee CI, Elmore JG. Breast cancer screening: an evidence-based update. Med Clin North Am. 2015 May; 99(3):451-68. https://doi.org/10.1016/j.mcna.2015.01.002. Epub 2015 Mar 5. PMID: 25841594; PMCID: PMC5064844.
Bain C, Constant TH, Contreras I, Vega AMB, Jeronimo J, Tsu V. Model for Early Detection of Breast Cancer in Low-Resource Areas: The Experience in Peru. J Glob Oncol. 2018 Sep; 4:1-7. https://doi.org/10.1200/JGO.17.00006. PMID: 30241230; PMCID: PMC6223404.
ARTICLE TYPE: Case Report; ORCID ID: Open Researcher and Contributor Identifier (ORCID) ID of corresponding author: https://orcid.org/0000-0002-9944-6250 ; ETHICAL: Institutional ethical committee and prior patient consent obtained; ACKNOWLEDGEMENT: None; FINANCIAL DISCLOSURE: The authors declare that there was no financial aid received.; CONFLICT OF INTEREST: No conflict of interest associated with this research work.; AUTHORS CONTRIBUTION: Idea and Conceptualization: Dr SSS., Data Collection and editing : RP and MK; AUTHORS AFFILIATIONS: Dr. S.S. Subramanian, MPT., Ph.D., Principal and Dean, Sree Balaji College of Physiotherapy, Bharath Institute of Higher education and Research, Chennai, India. Ms. R. Priya, MPT, Associate Professor, Sree Balaji College of Physiotherapy, Bharath Institute of Higher education and Research, Chennai, India. Mr. Madhan Kumar, MPT, Assistant Professor, Sree Balaji College of Physiotherapy, Bharath Institute of Higher education and Research, Chennai, India.; CORRESPONDING AUTHOR EMAIL: [email protected]; [email protected]; ARTICLE CITATION: Subramanian SS, Priya R, Madhan Kumar. Can clinical evaluation by physiotherapist forms early detection of breast carcinoma. SALT J Sci Res Healthc. 2022 November 10; 2(2): 16-19.
PUBLISHER'S NOTE: All claims expressed in this article are solely those of the authors and do not necessarily represent those of their affiliated organizations, or those of the publisher, the editors and the reviewers. Any product that may be evaluated in this article, or claim that may be made by its manufacturer, is not guaranteed or endorsed by the publisher.