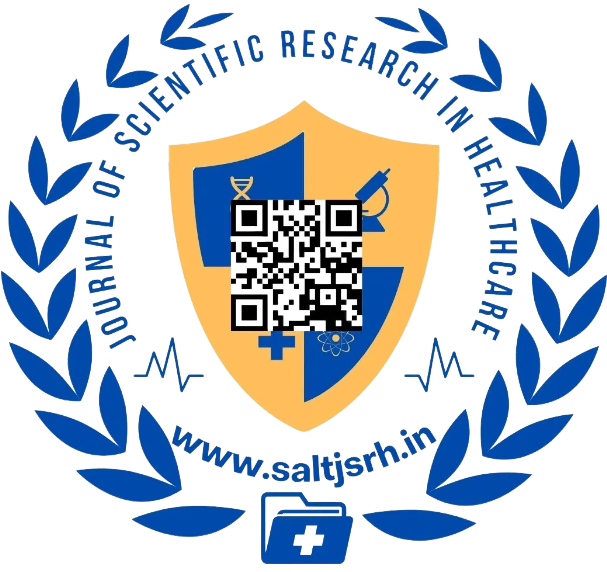 Volume 2, Issue 2, Page 20-23, Published on 14th November 2022
https://doi.org/10.56735/saltjsrh.ms2202022023
Case Report
SUBRAMANIAN SS , SUGANTHI S, LINGAMMAL M
Sree Balaji College of Physiotherapy
Bharath Institute of Higher Education and Research, Chennai, India
Corresponding Author: Dr. S.S. Subramanian, Principal and Dean, Sree Balaji College of Physiotherapy, Bharath Institute of Higher Education and Research, Chennai, India.
ORCID ID:0000-0002-9944-6250
ABSTRACT
Background: An increasing prevalence of cancer was globally reported, especially in developing countries like India, and early identification is more productive and lessens the economic burden on the subject, family and society. Healthcare professionals who were involved as first contact healthcare experts, especially musculoskeletal experts like Physiotherapists, Physicians, and Orthopedic surgeons, should be made aware of physical screening and associated psychosocial factors that could have a potential link for breast cancers, especially among women. Females with greater stress in life, having a systemic illness like Hypertension, Diabetes, having Chronic Polyarthralgia be continuously examined with physical, laboratory and due investigations exclusively for breast cancer once every three months. Every minor deviation from normalcy or suspicion is treated as a red flag and referred to experts. These clinical symptoms, like limbs getting stiffer, continuous pain over the spine with progressive movement restriction, changes in voice, and physical functioning with fatigue, were noted in a 60-year-old woman divorcee.
Methodology: Since the age of 30 years with a highly stressful life, living with medication for Hypertension, Diabetes mellitus was referred by a physiotherapist to Gynecologist for her physiological changes as noted above on haematological and radiological examination revealed left ductal carcinoma of grade III was treated with left breast mastectomy and axillary clearance in 02/2019, she was later treated with physiotherapy, and again the influence of HRT on the musculoskeletal system was analysed with evidence.
Conclusion: This research where an attempt at the early identification of breast carcinoma by the physiotherapist. Further, post-mastectomy, the response to exercises with HRT was analysed using due scientific evidence. The findings of this research can be a newer chapter for onco-physiotherapy to identify breast cancer clinically and update on exercise response with HRT.
Keywords: BC – Breast Cancer, HRT – Hormone replacement Therapy, QOL – Quality of Life
INTRODUCTION
Psychological status influences a lot on physical functioning. Poor mental health, along with stressful life, and lesser physical activity, can, to a larger extent, predispose to cancer (Bernard et al., 2007). While regular physical activities can to a greater level of lowering the risk of breast cancer, as evidenced by (Pizot et al, 2016). While stressful living with anxiety can increase the risk of having breast cancer, as supported by (Ferlay et al., 2012).
Further Post mastectomy subjects given with HRT, benefit from regular physical activity from Arthralgia (Hamoda, 2020) decreased muscle strength (Klassen et al, 2017) and decreased risk for bone Fractures (Barginear, 2009), lowering of cardiorespiratory fitness (Casla et al, 2015).
This research mainly focuses on post-mastectomy subject aged 60 years getting treated with Tamoxifen, and the effect of specific exercises were analysed with due evidence.
With the paucity of research on specific effects of exercises following HRT this study gets highlighted. The findings of this research can help to conduct larger such studies and better care of HRT subjects post mastectomy.
AIMS AND OBJECTIVES
1. To evaluate the psychosocial impact on breast cancer
2. To analyse the effects of exercises on subjects treated with HRT post mastectomy
MATERIALS AND METHODOLOGY
60-year-old divorcee, mother of an adult female, heading a highly stressful life, hypertensive, diabetic with poly-arthralgia, was diagnosed with cancer breast, treated with total radical mastectomy in 2020, was given tamoxifen. Subsequently, she was getting treated with regular physiotherapy at twice a weekly frequency from 2020 – 2022.
Effects of specific exercises on this post-mastectomy subject getting treated with HRT were analysed and Discussed with due evidence.
RESULTS
DATA INTERPRETATION
Table I and Graph 1 shows a significant reduction in pain and symptoms was found to be statistically evident. Further, an adequate improvement in the quality of life and functional changes, as evidenced by Graph 2.
Table 1: Description of Statistical Analysis

Graph 1: Shows the decrement of pain with regular physiotherapy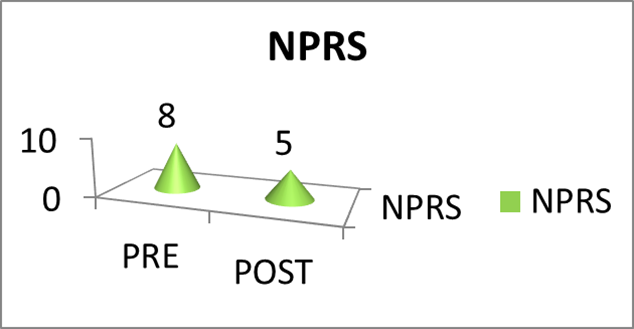 Graph 2: Description of the outcome to treatment with EORTC QLQ– BR23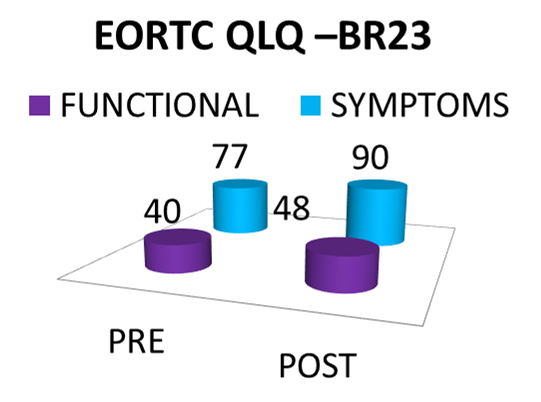 DISCUSSION
PSYCHOSOCIAL VERSUS CANCER
Physical inactivity with modern living can lead to many illnesses, including depression, with a 2-fold increased risk in an 8-year-old follow-up by Duncan et al, 2012; whereas subjects with good life style habits were shown to reduce the risk for cancer as supported by (Khan, 2010).
Further ACS guidelines on reducing a sedentary lifestyle could reduce cancer prevention (Kushi et al., 2012); physical activity post breast cancer therapy was found to reduce recurrence, as recorded by Holmes et al., 2005.
Eyigor et al., 2010 while analysing the effects of Pilates among BC subjects on improved QOL, functional capacity, fatigue and depression, similarly, this research subject has improved functional betterment with pilates exercises and added with lowered risk of recurrence.
HORMONE REPLACEMENT THERAPY AND PHYSIOTHERAPY
While this research subject receiving HRT post radical mastectomy as benefited with specific physiotherapy similar to systematic review by Boing et al., 2020.
Poly-arthralgia with lowered bone mineral density, low endurance and muscle atrophy were recorded to be part of post HRT among radical mastectomy.
Similar to this research subject, who was treated with regular walking for 15 – 20 minutes the study subject was functionally independent with good prognosis which were supported by Irvin et al., 2015; Nyrop et al., 2017.
FEW MAJOR CLINICAL POINTS RECORDED WHILE EVALUATION AND PHYSIO THERAPY FROM 2020 – 2022 AS BELOW:
1. Subject's mood swings, pain threshold changes, patient perception, and psychological status are to be studied.
2. Vital signs of being monitored and recorded prior to, during and after each session.
3. Relief of pain with resisted exercises, Pilates could be transient for 3 – 4 hours.
4. Pain-related symptoms could be the vascular or skeletal origin.
5. Encourage subjects to be regular medical to follow up, be transparent with prognosis, and insist on family support.
6. With the inconsistency of physical parameters such as dose, frequency and duration of physiotherapy are questionable as it should be tailored for each post radical mastectomy BC subject with individual assessment modalities should safely be used as supported by Banazak et al., 2021.
7. Further, a thorough knowledge of HRT on influencing the human body and function post Radical mastectomy, especially prior to Assessment and deployment of physical therapy modalities, were core components of this Research.
CONCLUSION
Physical therapist involved in oncology needs a greater influence on psychosocial, lifestyle, and clinical conditions linked with the risk of BC. Further, updated evidenced knowledge on HRT, the post-mastectomy effect of specific exercises, psychological support, and the limitation of each physiotherapy modality is paramount for patient benefit and professional betterment, as evidenced by this research. Limitations of this study are single experimental post Radical mastectomy and HRT Treatment.
REFERENCES
Barnard RJ, Leung PS, Aronson WJ, Cohen P, Golding LA. A mechanism to explain how regular exercise might reduce the risk for clinical prostate cancer. Eur J Cancer Prev. 2007 Oct; 16(5): 415-21. https://doi.org/10.1097/01.cej.0000243851.66985.e4. PMID: 17923812.
Pizot C, Boniol M, Mullie P, Koechlin A, Boniol M, Boyle P, Autier P. Physical activity, hormone replacement therapy and breast cancer risk: A meta-analysis of prospective studies. Eur J Cancer. 2016 Jan; 52: 138-54. https://doi.org/10.1016/j.ejca.2015.10.063. Epub 2015 Dec 11. PMID: 26687833.
Ferlay J, Soerjomataram I, Dikshit R, Eser S, Mathers C, Rebelo M, Parkin DM, Forman D, Bray F. Cancer incidence and mortality worldwide: sources, methods and major patterns in GLOBOCAN 2012. Int J Cancer. 2015 Mar 1; 136(5): E359-86. https://doi.org/10.1002/ijc.29210. Epub 2014 Oct 9. PMID: 25220842.
Hamoda H, Panay N, Pedder H, Arya R, Savvas M. The British Menopause Society & Women's Health Concern 2020 recommendations on hormone replacement therapy in menopausal women. Post Reprod Health. 2020 Dec; 26(4):181-209. https://doi.org/10.1177/2053369120957514. Epub 2020 Oct 12. PMID: 33045914.
Klassen O, Schmidt ME, Ulrich CM, Schneeweiss A, Potthoff K, Steindorf K, Wiskemann J. Muscle strength in breast cancer patients receiving different treatment regimes. J Cachexia Sarcopenia Muscle. 2017 Apr; 8(2): 305-316. https://doi.org/10.1002/jcsm.12165. Epub 2016 Nov 28. PMID: 27896952; PMCID: PMC5377413.
Barginear M, Clotfelter A, Poznak CV. Markers of bone metabolism in women receiving aromatase inhibitors for early-stage breast cancer. Clin Breast Cancer. 2009 May; 9(2):72-6. https://doi.org/10.3816/CBC.2009.n.014. PMID: 19433386.
Casla S, López-Tarruella S, Jerez Y, Marquez-Rodas I, Galvão DA, Newton RU, Cubedo R, Calvo I, Sampedro J, Barakat R, Martín M. Supervised physical exercise improves VO2max, quality of life, and health in early stage breast cancer patients: a randomized controlled trial. Breast Cancer Res Treat. 2015 Sep; 153(2): 371-82. https://doi.org/ 10.1007/s10549-015-3541-x. Epub 2015 Aug 21. PMID: 26293147.
Duncan SC, Seeley JR, Gau JM, Strycker LA, Farmer RF. A latent growth model of adolescent physical activity as a function of depressive symptoms. Ment Health Phys Act. 2012 Jun 1; 5(1): 57-65. https://doi.org/10.1016/j.mhpa.2012.03.001. Epub 2012 Mar 19. PMID: 22822412; PMCID: PMC3398509.
Khan N, Afaq F, Mukhtar H. Lifestyle as risk factor for cancer: Evidence from human studies. Cancer Lett. 2010 Jul 28; 293(2): 133-43. https://doi.org/10.1016/j.canlet.2009.12.013. Epub 2010 Jan 18. PMID: 20080335; PMCID: PMC2991099.
Kushi LH, Doyle C, McCullough M, Rock CL, Demark-Wahnefried W, Bandera EV, Gapstur S, Patel AV, Andrews K, Gansler T; American Cancer Society 2010 Nutrition and Physical Activity Guidelines Advisory Committee. American Cancer Society Guidelines on nutrition and physical activity for cancer prevention: reducing the risk of cancer with healthy food choices and physical activity. CA Cancer J Clin. 2012 Jan-Feb; 62(1): 30-67. https://doi.org/10.3322/caac.20140. PMID: 22237782.
Holmes MD, Chen WY, Feskanich D, Kroenke CH, Colditz GA. Physical activity and survival after breast cancer diagnosis. JAMA. 2005 May 25; 293(20): 2479-86. https://doi.org/10.1001/jama.293.20.2479. PMID: 15914748.
Eyigor S, Karapolat H, Yesil H, Uslu R, Durmaz B. Effects of pilates exercises on functional capacity, flexibility, fatigue, depression and quality of life in female breast cancer patients: a randomized controlled study. Eur J Phys Rehabil Med. 2010 Dec; 46(4): 481-7. PMID: 21224783.
Poggio F, Del Mastro L, Bruzzone M, Ceppi M, Razeti MG, Fregatti P, Ruelle T, Pronzato P, Massarotti C, Franzoi MA, Lambertini M, Tagliamento M. Safety of systemic hormone replacement therapy in breast cancer survivors: a systematic review and meta-analysis. Breast Cancer Res Treat. 2022 Jan; 191(2):269-275. https://doi.org/10.1007/s10549-021-06436-9. Epub 2021 Nov 3. PMID: 34731351.
Irwin MR. Why sleep is important for health: a psychoneuroimmunology perspective. Annu Rev Psychol. 2015 Jan 3; 66: 143-72. https://doi.org/10.1146/annurev-psych-010213-115205. Epub 2014 Jul 21. PMID: 25061767; PMCID: PMC4961463.
Nyrop KA, Callahan LF, Cleveland RJ, Arbeeva LL, Hackney BS, Muss HB. Randomized Controlled Trial of a Home-Based Walking Program to Reduce Moderate to Severe Aromatase Inhibitor-Associated Arthralgia in Breast Cancer Survivors. Oncologist. 2017 Oct;22(10):1238-1249. https://doi.org/10.1634/theoncologist.2017-0174. Epub 2017 Jul 11. PMID: 28698390; PMCID: PMC5634775.
Banaszak M, Biesek J, Adamski M. Wheat litter and feed with aluminosilicates for improved growth and meat quality in broiler chickens. PeerJ. 2021 Aug 4; 9: e11918. https://doi.org/10.7717/peerj.11918. PMID: 34430084; PMCID: PMC8349159.
ARTICLE TYPE: Case Report;
ORCID ID: Open Researcher and Contributor Identifier (ORCID) ID of corresponding author: https://orcid.org/0000-0002-9944-6250 ;
ETHICAL: Institutional ethical committee and prior patient consent obtained;
ACKNOWLEDGEMENT: None;
FINANCIAL DISCLOSURE: The authors declare that there was no financial aid received.;
CONFLICT OF INTEREST: No conflict of interest associated with this research work.;
AUTHORS CONTRIBUTION: Idea and Conceptualization: Dr SSS., Data Collection and editing: SS and LM;
AUTHORS AFFILIATIONS: Dr. S.S. Subramanian, MPT., Ph.D., Principal and Dean, Sree Balaji College of Physiotherapy, Bharath Institute of Higher education and Research (BIHER), Chennai, India. Ms. Suganthi S, MPT., Assistant Professor, Sree Balaji College of Physiotherapy, Bharath Institute of Higher education and Research (BIHER), Chennai, India. Ms. Lingammal M, MPT., Assistant Professor, Sree Balaji College of Physiotherapy, Bharath Institute of Higher education and Research (BIHER), Chennai, India.;
CORRESPONDING AUTHOR EMAIL: [email protected]; [email protected];
ARTICLE CITATION: Subramanian SS, Suganthi S, Lingammal M. Psychosocial link with breast cancer and exercise post mastectomy hormone replacement therapy. SALT J Sci Res Healthc. 2022 November 14; 2(2): 20-23.
PUBLISHER'S NOTE: All claims expressed in this article are solely those of the authors and do not necessarily represent those of their affiliated organizations, or those of the publisher, the editors and the reviewers. Any product that may be evaluated in this article, or claim that may be made by its manufacturer, is not guaranteed or endorsed by the publisher.